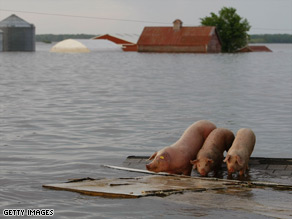 Recently america cities along with the Mississippi River, has hardly hit by flooding.
Storms and flooding has left thousands homeless in 6 states and killed 24 persons.
The water is still well above the banks of the upper Mississippi River at this time.
The river started cresting Sunday at Canton, Missouri,
Flooding in several Midwestern states has killed two dozen people and injured 148, according to the Federal Emergency Management Agency, and 35,000 to 40,000 people in several states have been displaced. 
the other side of the flood is destroying the crops.
US as a leading food products supplier to world market, researchers says world food crisis may increase in further days.
The flood damage to crops could reach $4-5 billion, according to the state's agriculture secretary.
In round numbers, U.S. farmers produce about $100 billion worth of crops and about $100 billion worth of livestock each year. 
The United States is, by far, the largest producer of corn in the world. Corn is grown on over 400,000 U.S. farms. In 2000, the U.S. produced almost ten billion bushels of the world's total 23 billion bushel crop. Corn grown for grain accounts for almost one quarter of the harvested crop acres in this country. Corn grown for silage accounts for about two percent of the total harvested cropland or about 6 million acres.