In the recent past Tamilnadu Politicians arranged a all party meeting to find a solution regarding srilankan tamils.
Tamilnadu chief Mr. Karunanidhi said "if the Sri Lankan government continues to ignore the Indian government's warning to stop the attack on Tamils, we might have to find an answer to the question whether we have to be in power in the State."
Tuesday all party committee come to an agree that all 39 Members of Parliament from Tamil Nadu, resign within two weeks if the Central Government of India failed to ensure a
proper solution in Sri Lankan Tamil's Problem.

At the same time Jayalalithaa Jeyaram the AIADMK general
secretary alleged that by demanding a ceasefire in Sri Lanka Tamil Nadu Chief Minister M. Karunanidhi was trying to protect the LTTE. She also described the recent approaches of Tamil Nadu's leading political party's (AIDMK, Congress, CPI, CPI-M and PMK) and M.Karunanidhi as a "farce" resolution.

She expressed that war in srilanka is only against a cruel, banned terrorist organisation LTTE not against tamils in srilanka. However Jayalalitha says India should not provide training for Srilanka ARMY.

Despite the different views of Indian tamils regarding srilankan Tamils, Recently sworn Tamil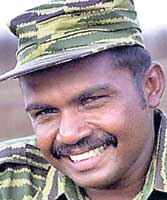 parliament member Karuna Amman or Vinayagamurthi Muralitharan who was fight against srilankan government on the past, but now tie up with the samr gov. to protect tamils from Blood thirst Prabhakaran or pirabaharan, says Indian government or Tamilnadu politicians only concerns on Srilankan tamils when they want to get some political mileage and they are not genuine attempts.

He also says the recent moves of tamilnadu is because of their elections are around the corner.
if India or tamilnadu attempts to intervene on srilankan issues then they violate island's law.
Srilanka is a Independent sovereignty state.